We aim to support actions that slow down the impact of the virus in our community. We are now offering scheduled TELEHEALTH VISITS during which you will be able to talk directly to one of our doctors from the comfort and safety of your home.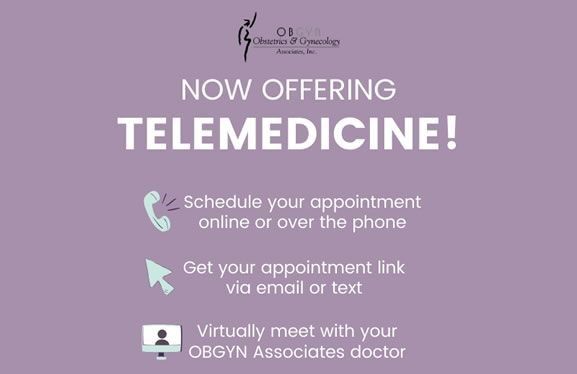 Please understand, this may not be a feasible solution for every patient and every heath concern, and some may require an in-office evaluation.
For those with in-office appointments:
If you are sick with a fever, cough, or shortness of breath STAY HOME and call the office for further guidance.
All patients will be screened for fever, URI symptoms, and COVID exposure.
Unless medically necessary, no more than one guest will be able to accompany you to your appointments. We strongly discourage guests under the age of 18.
We are making every effort to keep our offices safe.
Regardless of if you have symptoms or not, we urge you to continue social distancing, stay home, and stay safe.
Statement of Strong Medical Consensus for Vaccination of Pregnant Individuals Against COVID-19
Research Finds No Evidence of Transmission From COVID-19-Infected Pregnant Women To Fetus
The Physician's Briefing (3/24) reported that "there is currently no evidence that SARS-CoV-2 undergoes intrauterine or transplacental transmission from coronavirus disease 2019 (COVID-19)-infected pregnant women to fetuses, according to a study published online March 17 in the Archives of Pathology & Laboratory Medicine." The study "found that unlike coronavirus infections of pregnant women caused by SARS and MERS, COVID-19 did not lead to maternal deaths" in the women analyzed in the research. Moreover, "there were no confirmed cases of intrauterine transmission of SARS-CoV-2 from mothers with COVID-19 to their fetuses, similar to pregnancies with SARS and MERS," and "all neonatal specimens tested, including some placentas, were negative for SARS-CoV-2 by reverse-transcription polymerase chain reaction."
What does this mean for you?
Pregnant women do not appear to spread COVID 19 to their unborn babies through the placenta and the virus is not found in the amniotic fluid. Additionally, pregnant women do not appear to fare worse than non-pregnant patients when infected with the virus which is different than what is seen with the flu and other coronaviruses.
For more information, the CDC has put together the most up to date information regarding the corona virus.
Please go to www.cdc.gov/coronavirus.
If you have specific concerns, please do not hesitate to contact us directly.
Thank you and be healthy,
The Providers and Staff at Obstetrics & Gynecology Associates, Inc.
Fairfield Office Location
3050 Mack Road, Suite 375
Fairfield, Ohio 45014
Phone: (513) 221-3800
Fax: (513) 682-4520
West Chester Office Location
7759 University Drive, Suite D,
West Chester, OH 45069
Phone: (513) 221-3800
Fax: (513) 682-4520